As a business owner, you've probably heard that SEO is important, but what is SEO?
SEO stands for search engine optimization and it's the practice of improving the visibility of web pages in search engines like Google and Bing.
First things first, you need to understand how major search engines work. Did you know that 68% of all online experiences begin with a search engine? Simply put, a fraction of your target customers are searching for your services every single day. Improving your website's SEO strategy gives you the leverage of placing your site directly in front of these customers who are ready to buy right now.
So when you improve SEO for your website, you're increasing the number of visitors for certain web pages within your site. But how complicated is SEO? Is the world of search engine optimization really that complex? And how different is SEO from paid advertising? In this ultimate SEO guide, we'll walk through our professional tips and tricks that can help you boost your site's rankings in 2021 and into 2022.
What you'll learn:
The SEO basics and how search engines work
The difference between organic SEO, paid ads, map packs, and Google Guaranteed
Why SEO is vital for your marketing strategy
Top 27 SEO Terms Every Agency Must Know
The 3 core elements behind great SEO
How long does SEO take to work?
The Basics of SEO & How Search Engines Work
When most business owners hear SEO, they immediately think of Google. While Google holds 83.57% of the search engine market share in 2020, there are many other major platforms that still use search engines to help users find their needs.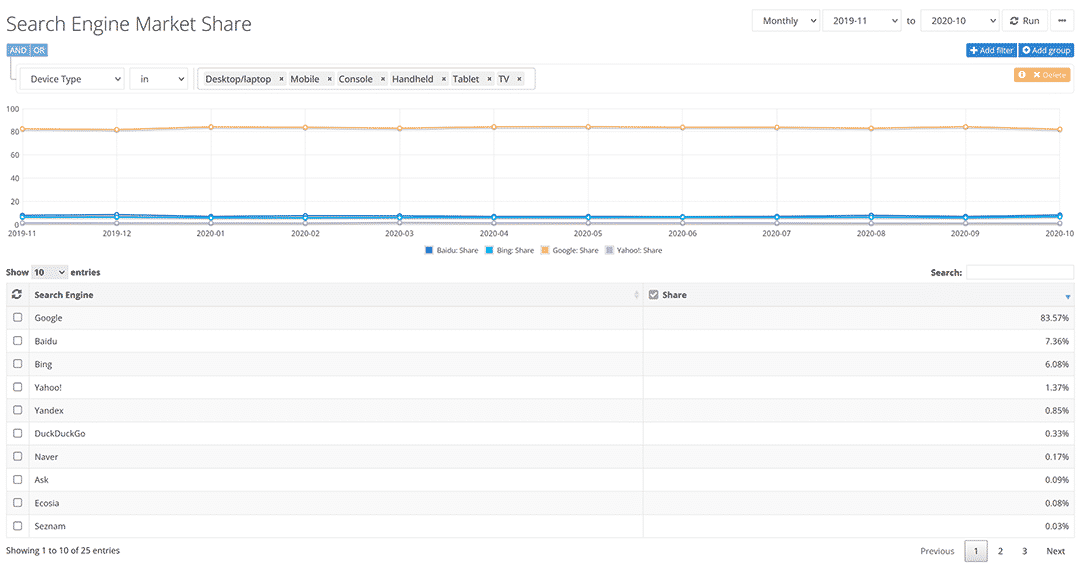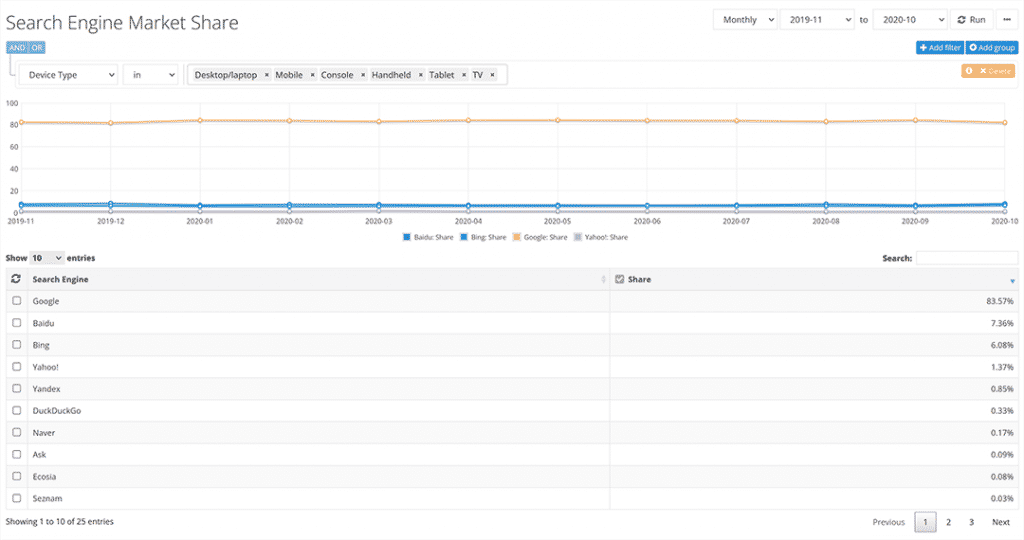 Dictionary.com defines a search engine as:
A computer program that searches documents, especially on the World Wide Web, for a specified word or words and provides a list of documents in which they are found.
So in lamen's terms, SEO can be applied to any website that has a search box for users to type an inquiry and fetches a list of web pages the search engine believes will be helpful to the end-user.
With that said, SEO can be applied to many other search engines including:
Youtube
Yelp
eBay
Bing
Baidu
Yahoo
DuckDuckGo
This is just to show you that SEO is not all about optimizing your website for just Google. You can apply SEO techniques to just about any search engine, but not all platforms work the same as each will have its own search algorithms.
The Difference Between Organic SEO, Local SEO, Paid Ads, and google guaranteed
When it comes to search engine marketing, there are 3 main tactics that help you reach new customers. These are organic SEO, local SEO, and paid advertising.
Organic Search Results
Organic search results are often referred to as natural results because engines will rank the search engine results page (SERP) based on a variety of ranking factors like the website's relevancy and overall authority on the internet. Organic search is included within major marketplace platforms like Amazon and eBay, along with directories like Yelp, and major search engines like Google and Bing.
Below is an example of a SERP page highlighting the organic SEO results: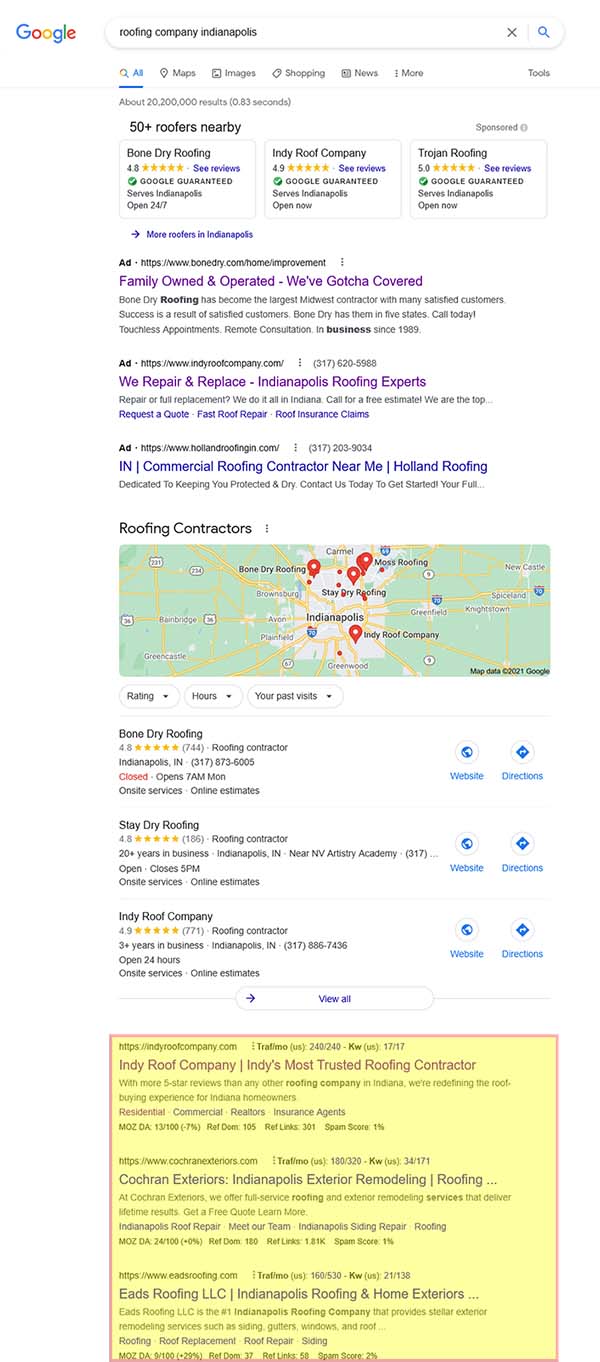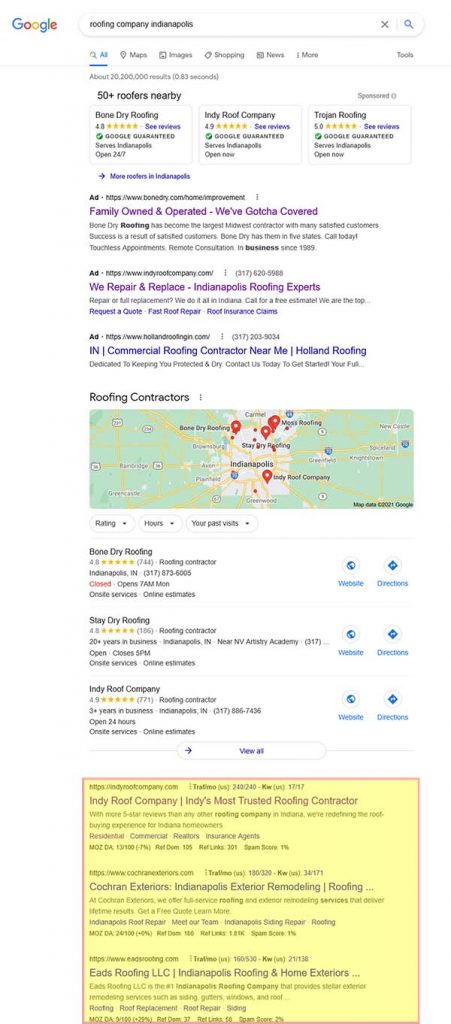 Local SEO / Map Packs
Local SEO and search engine Map Packs refer to ranking a business within the 3 map pack in Google or Bing. Local SEO and organic SEO are often confused as the same thing, but they're very different. In fact, you can have your business appear within organic SEO AND local SEO results at the same time. This means you can have your business appear twice within the same SERP, organically. In some non-competitive markets, we've even seen businesses rank twice within the Map Pack or within the organic listings.
Here is an example of the local SEO / Map pack listings on a SERP page: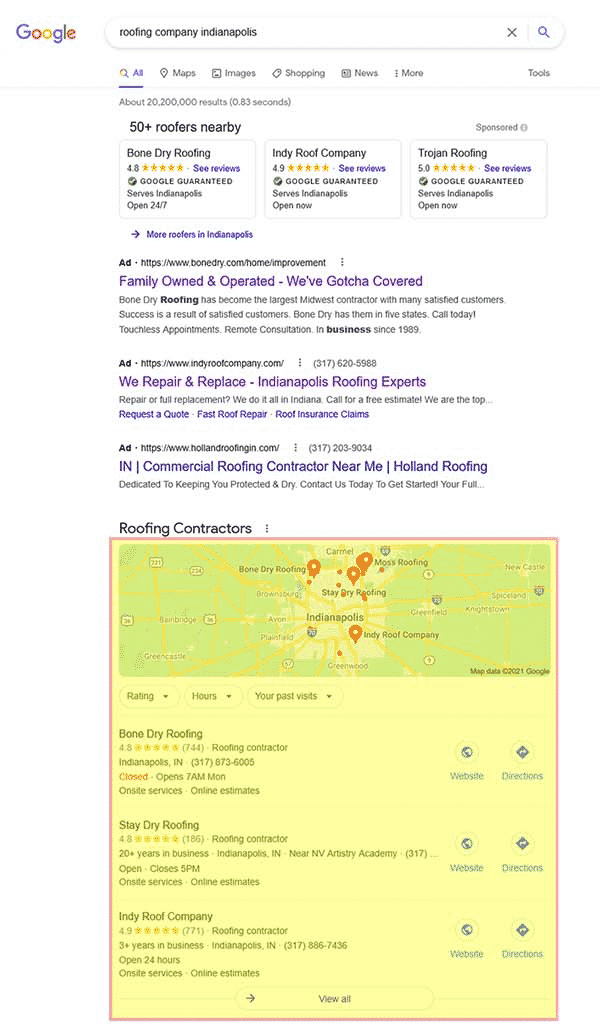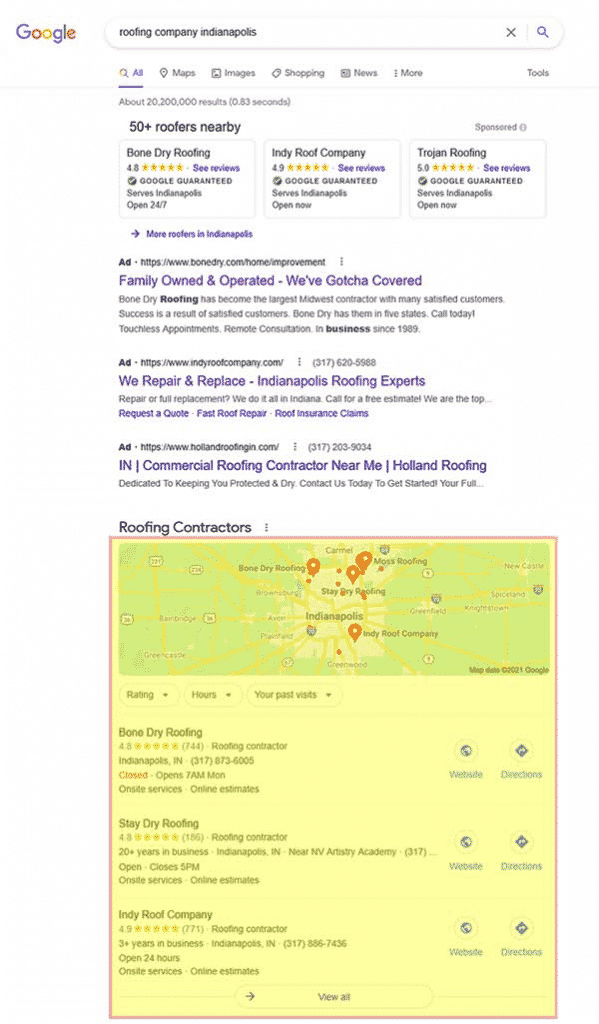 Paid Search Results
Paid advertising is just what it sounds like. You're paying for ad space so your business is the one being shown to potential customers on a particular platform. Another name for paid advertising is pay-per-click (PPC). Paid advertising includes social networks like Facebook and Tik Tok, web search engines like Google and Bing, and finally marketplace search engines like Amazon and eBay. Paid ads are most useful for retargeting users back to your site. Imagine having ranked your business #1 in the Map Pack and for organic SEO. The last thing you could possibly do is start running paid ads for the same keywords, then your company would be appearing 3 times on the same SERP.
Below is an example of a Google SERP with paid ads at the top of the page, but ads will also appear on the bottom of the SERP as well: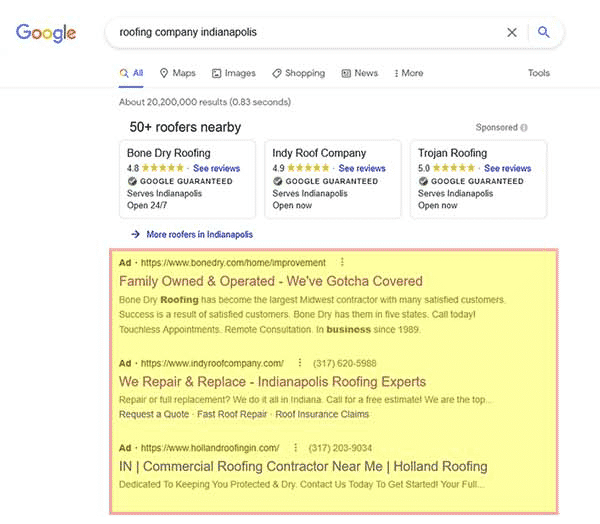 Google Guaranteed Results
Google Guaranteed is a new service Google has been testing for some years now but they're finally beginning to offer to every city all over the USA. Google Guaranteed listings are similar to paid ads but only for local service-based businesses. To get listed, Google requires the business to submit all legal forms of documentation, which varies based on each state. The cost can be cheaper or more expensive than traditional paid ads depending on your niche.
Google Guaranteed results always appear at the top of the page as shown below: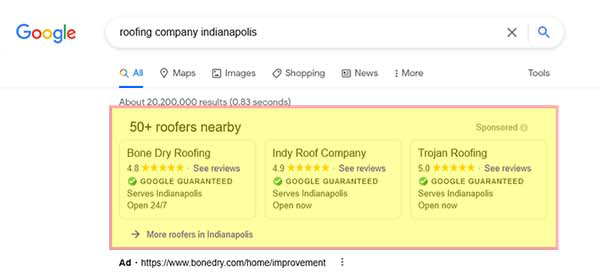 Why SEO Is Vital For Your Marketing Strategy
Now you might be wondering why so many business owners are spending so much time and money on SEO. Well, here's why:
1. SEO Establishes Your Authority Within The Digital World
On average, 91% of all pages never get any organic traffic from Google and only 0.78% of Google searchers click on results from page 2. With billions of searches every day, SEO is one of the most lucrative sources of traffic for your website. 53.3% of all website traffic comes from organic search, and with most searches having the intent of finding information about products and services, good SEO assures consumers are finding your company and not your competitors.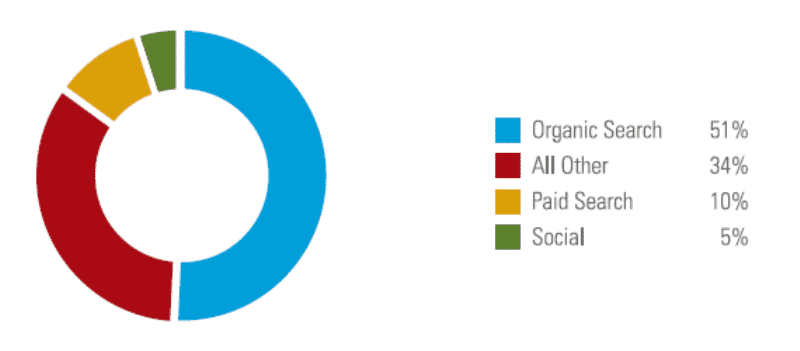 2. Great SEO Helps Build More Brand Awareness
By using SEO tactics to rank your website on Google, users can discover your business when they are searching for keywords related to your industry. No matter how much money you spend creating content on social media or paid ads, the most important part of any marketing initiative comes down to how people find your company in the first place.
3. SEO Drives High-Quality Organic Search Traffic To Your Website
Once a user finds your website through an organic search engine result, their experience with your company begins. When people are looking for information about a product or service, they are engaging in what's called "information-gathering mode." This means they want to read company reviews and research products and services before they buy anything.
4. SEO Will Retarget Customers That Find You Offline
Let's say a prospective customer finds your company offline via a billboard, newspaper ad, yard sign, etc… They may do a quick search of your company name to find reviews and more information about your products or services. Next, the consumer may type a search looking for other companies in the area, and that's where SEO retargeting comes in handy.
When your prospect comes to a search engine to look for "best companies in Indianapolis" and your website appears #1 rather than your competitors, then you have successfully retargeted your potential buyer. This works well for tons of businesses because you can promote deals on your website to attract customers to buy now.
5. SEO Gets More Competitive Every Day
With more consumers using search engines to find products and services, competition for rankings will continue to increase. This means that the market value of SEO is only going up over time, making it wise to invest sooner rather than later. The sooner you build your site's presence with SEO, the sooner it will pay off. Your investment in SEO will not pay off within just a few days or months even. Search engine optimization takes 9-12 months to see serious results.
Who Can Benefit From SEO Marketing?
Virtually any local brick-and-mortar business can benefit from SEO marketing. This includes companies like restaurants, medical practices, dental practices, fitness studios, salons, spas, automotive shops & professionals (like dentists), personal trainers/coaches etc. SEO is also highly lucrative for eCommerce brands, because their entire presence is online then SEO is the main driver for the traffic of most eCommerce sites.
There Are 2 Main Factors To Determine If SEO Is Right For Your Company
The amount of competition in your market
Your budget for SEO services
It's vital to understand these in order to have effective SEO, your business must be an industry that has a good amount of competition. More competition is a good and a bad thing. It's good because it shows your market is big and there will be tons of traffic for your keywords, but bad because that means it will take more time and resources to achieve search rankings with the top results.
SEO doesn't help some new tech companies and startups, especially if you have a unique idea that's never been introduced to the marketplace. When you have something so unique that there's no competition and nobody knows about it, you will find that search engines have virtually no keywords for your product/service.
How Long Does It Take For SEO To Work?
This all depends on many ranking factors, but it can take anywhere from 6 months to 2 years for SEO to start working. In fact, almost 95% of newly published pages don't get to the top 10 search results within a year. The best part about SEO is that once it starts working, all your traffic is essentially "free" (minus the time and money spent on resources to achieve your rankings).
You may ask, "why does SEO take so long?" Well, it varies on the following:
The competition of your niche
Your budget for SEO resources
The amount of time you dedicate to SEO related tasks
The content on your website
The age of your domain name
When Should I Get Started With SEO?
This answer to this question relies on many factors. Since SEO requires so much money, time, and resources, it depends on these 3 main factors:
The Competition of the Market Your Wanting To Rank In
The # of Additional Customers You'd Like To Take On Each Month
Your Company's Budget for SEO Services
A general rule to stick by is your company should be grossing at least $180,000 of revenue per year before SEO can even be a thought. SEO marketing is priced in 3 different categories: hourly, by project, or by monthly retainer. The median hourly cost for SEO is $75-150/hour. For pricing by project, it varies from $5,000 upwards to $100K+ depending on the size of your project. Monthly retainers are as cheap as $1000/month and can be as high as $10K+/month for large-scale SEO projects. Anyone pricing SEO cheaper than this is either very new to the industry or uses cheap black hat SEO techniques to rank– You'll want to stay away from these cheaper companies because they run the risk of getting a manual penalty on your site which means you will lose all your rankings.
So the best time to start an SEO campaign is when you're ready to invest $10K+ into your online presence without seeing an ROI for 12 months. SEO is not fast results by any means, but this is definitely the most lucrative source of targeted customer traffic when marketing online.
What If I Can't Afford SEO?
If you're looking for new ways to attract more qualified customers, and you can't afford to spend the $1K+ monthly SEO investment, then it's best to spend time on other areas of marketing that will produce more revenue. Some of these include:
Social Media
Google Paid Ads
Yelp Ads
Google Guaranteed
You can also learn how to do start SEO on your own. It may seem like a daunting task, but Youtube is the greatest source of free content to learn just about anything, and with the help of our Ultimate SEO Guide, you're already on a great start to learning SEO! All it takes is time, effort, and sacrifice to rank your website to the top of search engines.
Top 27 SEO Terms Every SEO Agency Must Know
The truth is, the science behind SEO is complex and tricky. And with the SEO business being saturated by so many agencies and "gurus," it's very hard to find a good company that knows what they're talking about. With our list of the top 27 SEO terms every agency must know, you'll be able to get a better understanding of the industry and what questions you to ask your future SEO marketing company:
1. Algorithms
One of the first things you need to know about a search engine is how a search algorithm works. An algorithm is a set of rules that search engines use to rank web pages. Search engine algorithms can be thought of as the brain that powers its search results. Search algorithms are what allow search engines like Google to crawl, index, and rank websites by relevance and authority.
2. Anchor Text
When one website links to another website, it uses anchor text which is the visible clickable words or phrases within a link like "click here" or "view SEO guide." You cannot use just any anchor text, there is a science to it.
3. Authority (DR and DA)
Authority is a complex concept that has different meanings in search. One way authority is measured is through Domain Rating (DR) by Ahrefs. The next best way to measure is with Domain Authority (DA) by Moz. Google takes into account how authoritative websites are by the number of backlinks each domain has. It's not all about acquiring backlinks though, websites like .GOV and .EDU are naturally the best sites to get links from. Then news sites like Forbes, Bloomberg, and Inc are great examples of .COM websites that will have high authority. DA and DR specifically measure the overall authority of an individual website based on its number of linking root domains, link quality, backlink age, along with several other ranking factors.
4. Backlinks
A backlink is defined as incoming hyperlinks that point to your web pages from other websites. Simply put, it's a link from one website to another. Search engines consider more backlinks as a sign of authority which can boost how high your website ranks on SERPs. The easiest way to explain backlinks is that they're like "votes" on the internet, the more you have then the higher your website rankings will be. When you purchase SEO services, we will work on building more backlinks for your domain so this ranking signal will increase.
5. Black hat and White hat SEO
Black hat or "bad" SEO is the use of unethical tactics to increase search rankings. These practices include hidden text, cloaking, sneaky redirects, spammy backlinks, and keyword stuffing.
White hat or "good" SEO involves using mostly ethical techniques like on-page optimization and content marketing to improve your website's authority and visibility online.
6. Bounce Rate
Your bounce rate is used to describe how many times people leave your website after only viewing one page. The higher this number, the worse your bounce rate is. Anything above 60-70% is very high, within 40-60% is considered average, and 10-40% is ideal. Bounce rate affects SEO because if users immediately click off your site, then the content is not serving their search or the website is not UX optimized.
You can improve your bounce rate and SEO by producing high-quality content that users find relevant and useful.
7. Canonical URL
Canonical URLs are the preferred and authoritative web pages for specific keywords, phrases, or pieces of content. These "canonical" versions should be original pages that search engines crawl and index to compete with other unauthorized versions which can lead to duplicate content issues. Basically, it's not a good idea to create 2 pages targeting the same keyword or phrase. Each page on your website needs to serve a purpose, which should be to provide valuable content for your end-user.
8. Citations
Citations are often referred to as NAP listings, they are a company's name, address, phone number, and other important information (this is your NAP data). This data is used by search engines to determine a company's geographical location. Citations can be ranked based on many different factors, but the basics are to get as many quality listings as you can. Examples of citation listings are Yelp, Apple Maps, Yellow Pages, 411 Directories, etc… Many big cities also have local directory websites you can submit your NAP data like your local Chamber of Commerce. Certain niches also have niche-based directories like roofers, cleaning companies, and tax consultants, etc…
9. Crawler (Spider)
A crawler is a program that crawls the web, often used by search engines like Google or Bing. Bots crawl websites for fresh new content on a regular basis. Search engines will find your fresh content and then analyze it, but will not actually index it unless they deem that page or website valuable. Some reasons a page will not get indexed are because the website contains viruses, is known for phishing or has illicit content. One way to submit your domain to Google to index is with the Google Search Console. When you own a domain on the Google Search Console, you can submit new URLs of your domain to Google to get added to the index queue.
10. Do Follow and No Follow Links
Do-Follow and No-Follow links are 2 options of backlinks that point to websites, but a do-follow link allows the website to pass on some of its authority while a no-follow link does not. It's not good for a website to have 100% do-follow links because it's not natural. Some websites naturally have under 50% do-follow links, but on average we like to stick to the 80/20 rule with 80% links being do-follow and 20% no-follow.
11. Featured Snippets
A featured snippet is a result from Google for a specific keyword that displays the answer to a question directly below the search bar. These snippets are very beneficial for a website's SEO as they will increase organic search traffic and conversions by providing direct answers to your visitors' questions. Since Google wants to provide their users with the best possible results, they want to display content that helps.
12. Google My Business (GMB) Listing
Google My Business (GMB) is a free service offered by Google to create, manage, and optimize your Google business listings. This is your listing that appears on Google Maps and the local map that appears for local search results. A complete profile with accurate information will ensure that you appear when people search for your service on Google Maps. You must add photos, videos, services, and unique descriptions of your business to help show Google exactly what your company does. The more info on your GMB listing, then the more Google will understand what you do.
13. Headings
Headings are HTML tags that serve the purpose of structure on a page. The most common types are h1, h2, h3, and going up to h6. Heading #1 is your web page's main title, there you should only have 1 h1 per page. The rest of your heading tags are subheadings, and there's no limit for each subheading, but it is a good idea to structure your content in a hierarchy that makes sense. This will improve your SEO because the content will be laid out nicely for search engine crawlers to easily understand.
14. Inbound and Outbound Links
Inbound and outbound links are the connections between websites. Inbound links point to your website, while outbound links go to other websites. This is how websites pass value from one to another to improve SEO. You want your inbound links to be coming from quality sites that offer a similar audience as you because this will give your website more relevancy.
15. Index or Noindex
The index status of a page determines whether Google will display the webpage in search results or not. When you set a page to noindex, Google will know to exclude it from appearing as a search result. This is good for pages where you have duplicate web pages that have slight variations, so you don't affect a canonical URL.
16. Internal Links
Internal links are links to other pages within your website. This is an important SEO factor for providing relevancy to your content, but it's also good for usability purposes. You only want to add internal links to other pages on your site when it's relevant to do so. One of the best strategies of internally linking is called Silo Structures. This refers to building internal links within specific "silos" of relevant content, helping search engines understand your website more.
17. Keywords
Keywords are the most common phrases used in search engines. They are the words used for search queries. These are commonly referred to as "search terms" or "search queries." You may have heard that people don't search with complete sentences, but rather keywords associated with what they're looking for. Keywords are important in SEO because they help us determine what exactly users are searching for within search engines. The beginning of every SEO campaign starts with keyword research. Some keywords are more competitive than others so we need to research how difficult your ideal keyphrase will be to rank for to determine the amount of work it will take.
18. Keyword Density
Keyword density is the percentage of times a keyword or phrase is used on your page compared to the total number of words. If your page has 100 words of content, and your key phrase is mentioned 6 times, then your keyword density is 6%. This tells Google how important it is for this term to rank in search results, but you don't want to stuff keywords. There are no hard or fast numbers for the best keyword density, but the best rule is to research your competitors and copy what's working. Sometimes #1 will have the highest density, but not always. Nowadays, the best SEO tool to help with keyword density is Surfer SEO. Surfer does all of the keyword research and competitor research for you, then shows you exactly how much additional content and keywords you need to rank ahead of your competitors.
19. Link Building
Link building is the practice of earning backlinks from other websites. It is a popular, yet complex SEO tactic because it's closely tied to many black hat SEO techniques. That's why you need to be careful and only use whitehat link-building strategies for your business. Some of the most well-known whitehat link-building techniques are creating infographics, skyscraper blog posts (blogs with 4K+ words of content), social media sharing, building citation listings, and creating local/niche-based directory listings.
20. Long-Tail Keyword
A long-tail keyphrase is a keyword where 3+ words are typed into a search engine by the user. These phrases tend to be more specific and less competitive than shorter keywords, so they convert better for your website. A great example of this would be "kitchen sink repair Indianapolis" This is considered a long-tail key phrase because it's longer than "plumber Indianapolis".
21. Manual Penalty
Google has search engine algorithms in place to detect websites that are trying to cheat the system with black hat SEO techniques. If your website or web pages have been manually penalized, it means Google has manually applied a penalty against you for spammy link-building tactics. You'll need to conduct deeper research into what factors landed your site's manual penalty. These are not good and take well over 6 months to years to gain trust back from Google.
22. Meta Description
A meta description is the small snippet of text below your website URL and next to your page title in search results. Google and other search engines will pull the first 155-160 characters of meta descriptions. This tells searchers more information about what's on that specific web page, which often influences whether or not they click on your page.
23. Relevance
Relevance is the concept of making sure your content and keywords are targeted and stay relevant to the niche of your site. For example, if you're a general contractor, it's not good to have a general contracting website that lists so many services because you'll have a huge uphill battle to rank for each individual service. It's best to find your favorite most profitable service and niche down, like doing all gutter installations or roofing. This way your site is more relevant and will be easier to rank. The same concept follows with backlinks. You'll want to find backlinks from relevant websites like home improvement directories, blogs, or your suppliers.
24. Searcher Intent
Searcher intent is quite literally how it sounds, it's the search intent of a user's search query. When someone types in "parks near me" we know they are looking for a specific location because of "near me" so Google knows the searcher wants to see a map. When someone types in "buy games" the search results will show both the local maps and organic search results, but if you search "buy games online," Google and other search engines will only return the organic search because it realizes the intent of the user is to buy games online rather than in-store. It's important to do keyword research and understand searcher intent before creating content or acquiring backlinks.
25. Search Engine Results Page (SERP)
The SERP page is the first page you see when you search for something on all major search engines.
26. Title Tag
The title tag of your web pages is one of the most important on-page SEO ranking factors. It tells search engines and visitors what the page is about in just 60 characters or less. The search engine will often display your title tag as the title of your webpage's search result, so it has to be clear, descriptive, and relevant to the search query.
27. 301 Redirect
A 301 redirect is a permanent redirect that tells Google and other search engines exactly where the web pages (and their respective URL) have moved to. When you must remove a page and it has backlinks, you usually need to 301 this page to another relevant page on your site. Sometimes it's a good idea to leave a page as 404 not found if you have no backlinks or no more relevant pages to redirect to.
Final Thoughts
Well, there you have it. Whether you're new to SEO or you're a business owner looking to learn more, we covered all the top questions and the most common terms you will see in the industry. We hope this article was able to answer your question of, "what is SEO?"
The only other thing that's left is for you to get started building your SEO strategy. But before you start, there's one thing you should keep in mind:
SEO is built for long-term results. If you're a new business looking to find immediate customers, then SEO is not what you need. For new businesses with less capital, it's best to spend more time running paid ads on Google and social media sites to build a strong base before moving on to SEO. Most companies that invest in SEO are already established so it's going to be hard for you anyways to compete with someone that has a larger budget than you.
Bonus: The 3 Core Elements Behind Good SEO
SEO can be broken down into 3 main elements: on-page, off-page, and technical SEO:
On-page SEO
On-page SEO includes all the elements on your website that you can control, such as your page titles, alt-text, keyword density, internal backlinks, etc… Improving your on-page SEO all comes down to improving your site structure, content pages, site speed, and making sure you add new content to your website on a regular basis.
Off-page SEO
Off-page SEO is what happens outside of your website like link-building. Your site's off-page SEO is arguably the most important part of every SEO campaign. As mentioned in the terms, backlinks are like "votes" on the internet. If your site has no votes, then essentially you have no authority.
Technical SEO
Technical SEO is a part of on-page optimization but it's actually its own factor. Because so many agencies skip pieces of technical SEO, there are a plethora of websites that can easily have rankings increased by using these simple technical SEO techniques. When building a website, it's like building a house; you must lay the foundation before you can put up the walls and decorate. Technical SEO involves these crucial elements you must take before a website goes live: site speed, site architecture, sitemap setup, Schema setup, page redirects, and user experience (UX).