The 6-Steps Behind A Successful SEO Strategy
In this article, we will cover everything about how to create an SEO strategy to increase your organic traffic and rank your website high in major search engines. Today, search engine optimization (SEO) is more important than ever. Internet users are constantly making search queries to meet their needs, and what they find affects their decision-making process. The internet and major search engines like Google's search results have completely changed the way people search for information about brands, products, and services. A solid SEO strategy can look easy on the outside, but when you dive deep and begin the process of ranking your website on organic search platforms, you'll realize it's much more work than anticipated. Before hiring an
SEO service
, it's important to know that they have an efficient SEO strategy. Here is an infographic outline of our strategy to increase your organic traffic: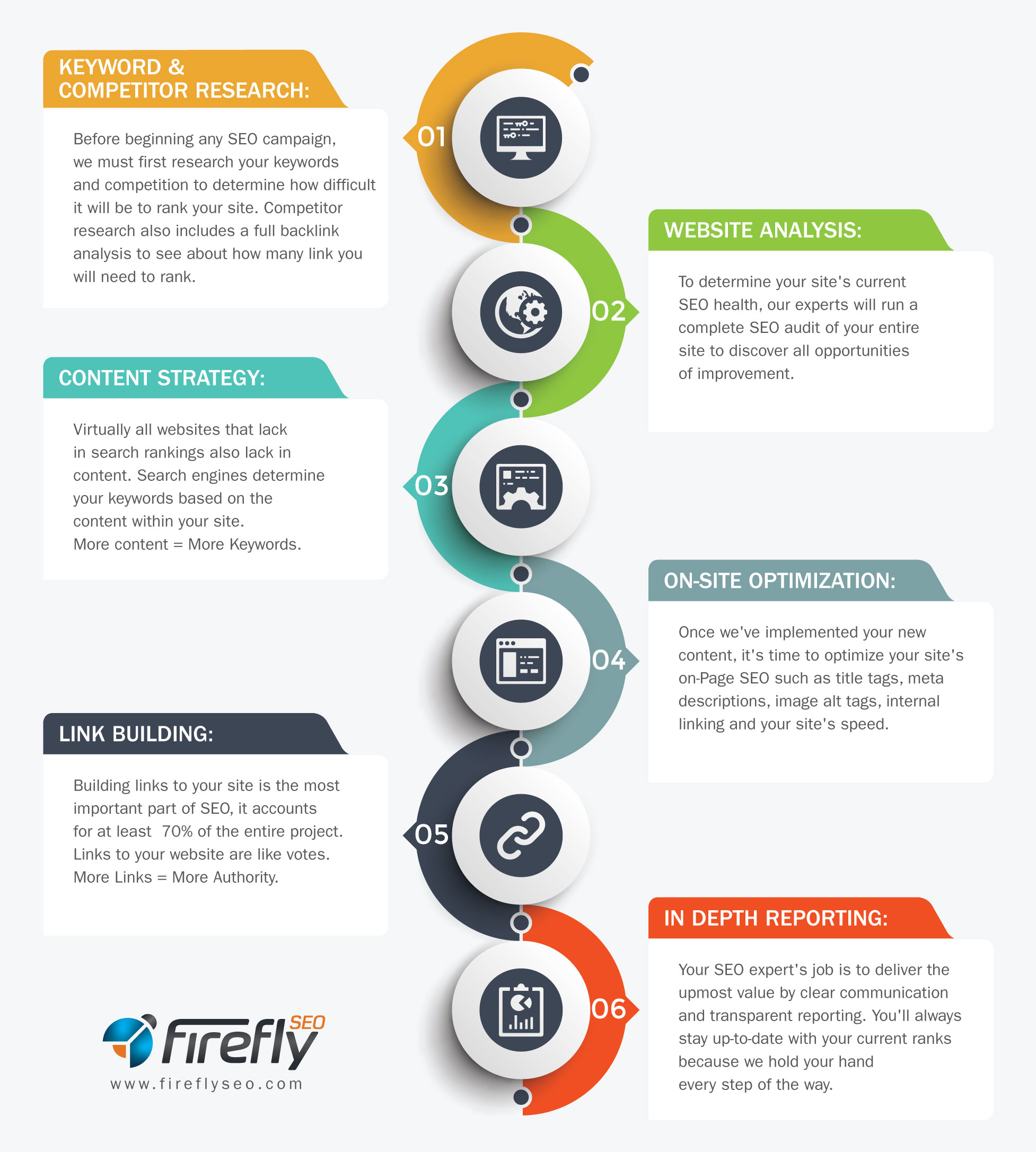 1. Keyword Research & Competitor Analysis
In order to create an SEO strategy, you need to start with basic keyword research, and following this, you must do research to find who your main competitors are. There are many SEO ranking factors so there are many audits involved within the first step of the process, it's best to begin writing down a list of all your competitors that you're aware of, then use a search engine (the best being Google) to find your other top competitors with the keywords you've researched. After you have a final list of competitors, the next step is to run a competitor analysis to see who has the best SEO success. Once complete, you'll have an idea of how much resources it will take to rank your site and increase your organic traffic.
The Keyword Strategy To Find Winning Keywords For Free
The keywords your top competitors use may be different than yours, so you need to do some research on what keywords are most commonly used by your market. Without spending money on expensive SEO tools, the best place to find keywords is using the
Google Search Console
. In order to use this feature, you must already have an established website that has a reasonable amount of existing content that ranks within Google. If you're starting new or you're not as established, then the best place to find keywords is using
Google Keyword Planner Tool
. Either tool will show you how many impressions certain keywords get each month. You don't necessarily want keywords with the highest search volume because some of these will be highly competitive. The best keywords to pick are either long-tail keywords for eCommerce which are key phrases that are 4-word minimum or ranking in minor cities and suburbs for local SEO. Long-tail keywords will also work great with local SEO. Once you've found at least a dozen keywords, it's time to start looking for your competition.
Competitor SEO Analysis
One of the ultimate pieces to an effective SEO strategy is to know who your best competitors are. You need to be aware of the main keywords they rank for which will help you understand their current search strategy. There are many things to consider when doing a competitor analysis such as:
How many pages do they have?
How often do they create content?
What sites backlink to them?
What is their website speed?
How many internal links do they have per page?
Does their site have any technical errors? (broken links, 404 errors, or UX issues)
Competitor On-Page SEO Analysis
By now you can see why an SEO tool is important when conducting SEO tasks. These tools will save you thousands of hours in the long run which will end up in hundreds of thousands of dollars worth of your time. One of the best SEO tools for competitor research is
Screaming Frog SEO Spider Tool
. For an annual price of only £149 per year, you get nearly a complete website audit tool at your fingertips. Screaming Frog will help you analyze a website's page count, internal links, outbound links, title tags, meta descriptions, character counts, 404 errors, broken links, bulk website processing, and much more.
1. On-Page SEO: Find Top Ranking Pages, Title Tags, and Meta Descriptions
Without using SEO tools, you can search your main keywords on Google to find your main competition for each keyword. You want to make sure to do this in an incognito tab so you load fresh results each time you search. After you have the SERP loaded, then you can analyze the title tags and meta description for each ranking web page with the search rankings. We usually stick with gathering data from the top 5 results.
2. On-Page SEO: Discover How Many Pages Your Competition Has
Once you go through all of your main keywords and collect the top 5 results from each page, you'll have a mighty list of competitors. Your next step is ranking each competitor's site by the # of pages. A simple Google search command for [site:domain.com] (while just switching domain.com for your competitors) will show you exactly how many pages a website has indexed with Google.

3. On-Page SEO: Analyze For Big Content Assets, UX and Technical Issues
The more pages a site has, the more content it's likely to have. Once you figure out which sites have the most pages, you have a better idea of which of your competitors have the best SEO strategy. Your next task would be to analyze each website's user experience and see how well each website works. Note what you like and dislike about each website. Are there any 404 errors? internal links? broken links? How often do they post new content? This is another huge reason why SEO is important. Screaming Frog is great because it covers all the on-page research we just listed in this section under "Competitor On-Page Analysis." The only Screaming Frog does not cover is a website speed test.
4. On-Page SEO: Run A Speed Test On Your Top Competitors
The final step for on-page competitor analysis is running a speed test on your top competitor sites. The top 2 tools in the SEO industry for speed testing are Google's
Page Speed Insights
and
GTMetrix
. Having a fast website is important because nobody wants to wait for a long time for any experience. Studies show that you have just 4 seconds before someone decides to click off.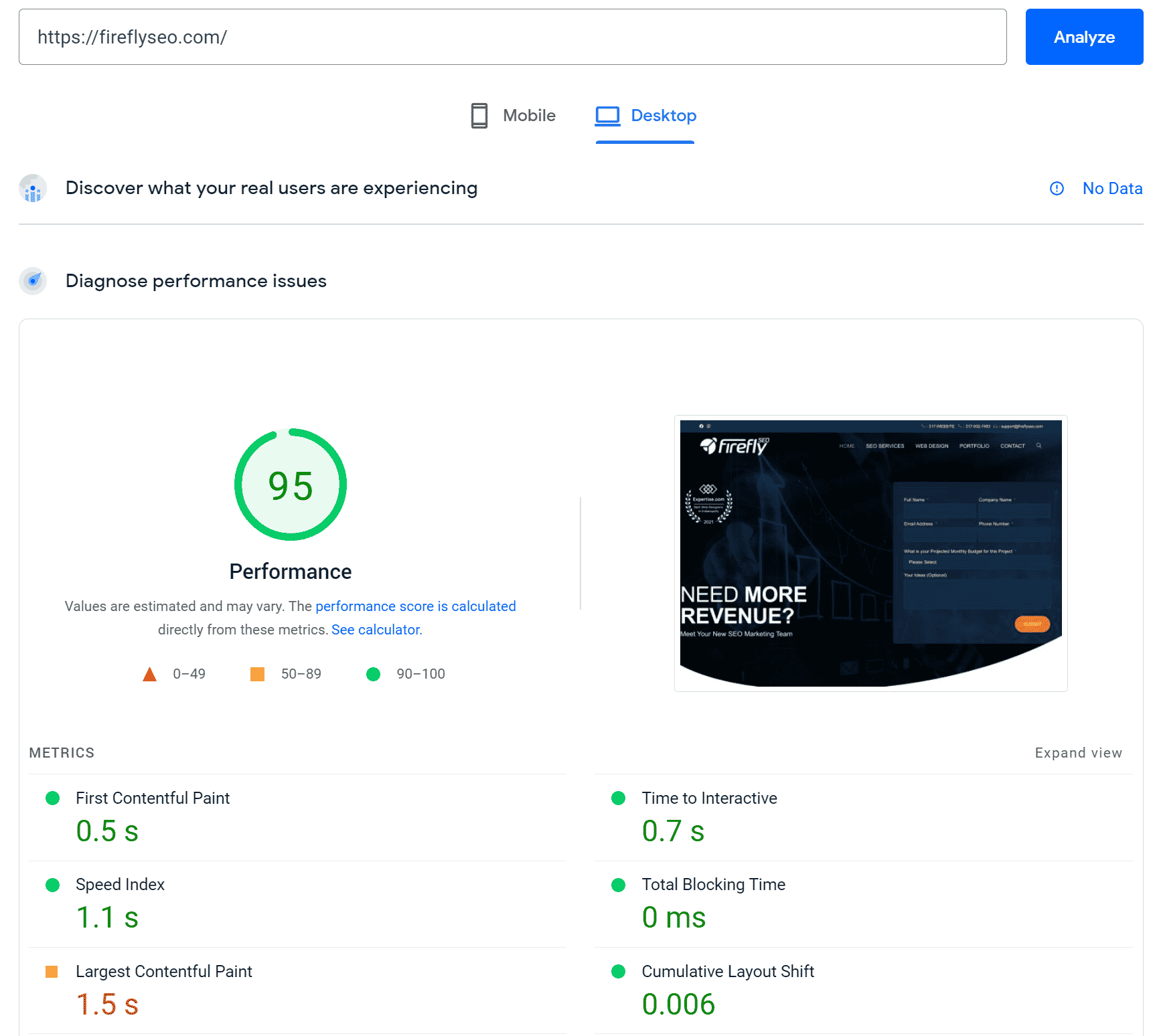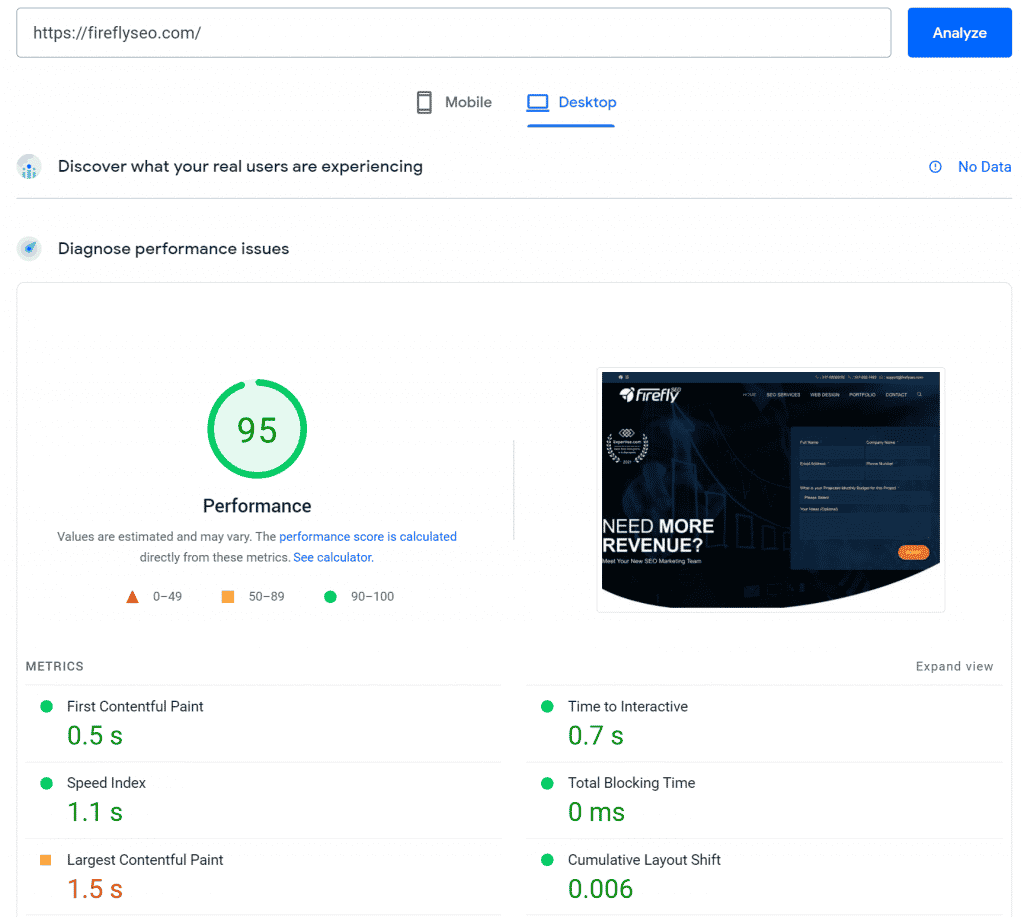 Competitor Off-Page SEO Analysis (How Many Backlinks Do They Have?)
Researching backlinks is not an easy task, and it's not something you can do without an SEO tool. The best tool we've found for researching your competitor's backlinks is
Ahrefs
. With Ahrefs you can do much more than just research competitor links, you can do website audits, keyword research, and content research. One of our favorite tools is the content gap tool that shows you what keywords your competitors are ranking for that you are not. Ahrefs also has a ranking system that works very great and follows the most major search engine algorithms nearly perfect. In Ahrefs, their website rank is also referred to as a domain rating (DR). You'll want to use Site Explorer and run a query for each competitor. After that, you need to analyze the backlinks for each competitor, the best way is to just export a CSV file for each competitor and then create a tabbed spreadsheet file for the top picks. Now you can analyze the links from each competitor to find common links within your industry and any opportunities for you to acquire backlinks. With this process, you're essentially reverse-engineering the SEO strategies within your competition and what's currently working within your market. Once you're able to replicate, then you can begin to one-up the competition. We can't stress enough that competitor backlinks are not something to do without a tool. This is very tedious and time-consuming. Good backlink analysis of your top competitor's websites conducts of finding all of their backlinks, where those links are coming from, and analyzing their anchor text distribution.
2. Website Analysis & SEO Audits
After you've researched your competition and you have your main keywords listed, we must analyze your own site and its existing content to discover the content gap between you and your competition. If you decided to use Ahrefs for your backlink research, then you'll be pleased to learn they have a tool called Content Gap that analyzes you and your competitors to tell you exactly what pages they have that are ranking for keywords you are not. It's important to run a complete website analysis and SEO audit before moving forward with the rest of your SEO strategy.
Website & Content Gap Analysis
Your website analysis is a content gap analysis between you and your competitors. It's not completely necessary to do on-page SEO at this point, because after you add all your new content assets you will be able to run through the complete on-page SEO for every page on your site. What you want to find for the content gap analysis are the
gaps
between you and your competitors of the following items:
The # of Content assets (About pages, Service Pages, Blog posts, and Portfolio Items)
Types of content used (Videos, images, infographics, blog posts, and anything else that stands out)
The # of words used on each piece of content
Total # of pages for yours and their website total
Internal & External links on each page
Technical SEO Audit
Once you've analyzed your website, it's time to do a technical SEO audit. Screaming Frog as mentioned earlier in the article will be best to use because it crawls the entire website and provides an accurate SEO analysis of each individual page. Some items that need to be checked are:
SSL
Site structure
Internal links
Site speed
Redirect 404 error pages
UX & Accessibility
Schema markup
Google Search Console & Analytics Setup
Off-Page SEO: Link Gap Audit
Once you've completed your competitor backlink analysis, then you're ready to find the link gap between your and your competitor's websites. As mentioned earlier, the best tool for backlink gap analysis is Ahrefs. They even have a new tool now called Link Intersect and it completes the entire link gap analysis for you! You can simply visit the tool from Site Explorer. Once you have it open, all you need is to enter your top competitor websites then enter your own website domain underneath, then Ahrefs will show you a complete analysis of all the backlinks your competitors have that you
DON'T
have. This is truly an incredible tool because even just a few years ago this did not exist and all of this work was outsourced to professional link building services.
Mobile Responsive: How Does My Site Look On A Phone Or Tablet?
With mobile traffic reaching more than 50%, having a responsive website and mobile SEO is becoming a requirement for websites. With Google's mobile-first index, you must make sure that your website is mobile responsive. The best way to see how your site looks on mobile and tablet is by doing a quick test with
Google's Mobile-Friendly Test
. If your site is not mobile responsive, then you must consider a
new web design
.
3. Content Creation
So you've analyzed the competition of your content gaps, have completed your keyword strategy, and now you're ready to create new content. Your SEO content strategy first begins with the foundation of your website, and you'll need to create a new site outline.
Building A New Site Outline
Most sites that lack good rankings are lacking good site architecture and category pages. This also causes a bad user experience (UX) because it's harder to navigate your site. In order to improve your site's foundation, you'll want to analyze the content assets of your competition from your gap analysis and build a new site structure based on the additional pages your top competitors use. You'll find companies that rank higher have dozens of internal pages describing more and more about what they do. This is because the more content your site has, the more information Google can read and determine more relevant keywords for your site to rank. Once you've analyzed your competitors, you can create a simple rough draft of your website outline using a word document. The idea here is to create new pages based on your competitors that rank well. What pages do they have that you don't have? This is why your content gap analysis is so important because it shows you the exact pieces of content you need to get on the level of your competition, then you can 1-up them with additional pieces of long-form content.
Search Intent Within Search Engines
Search intent is exactly what it sounds like, it's the actual intent of all the search queries within each search engine. For example, "buy car insurance now" in Google has a completely different intent than "local car insurance companies." That's because Google understands a user's search intent and serves their content based on exactly what they're looking for. While not a direct ranking factor, search intent is still a metric that influences your rankings. By understanding the intent behind certain keywords, you can create content for it and improve rankings by providing exactly what users are looking for when they type in a search term into Google.
Creating New Content Assets
The best way to find relevant content ideas is to research what assets of your competition are ranking the most. The best content assets are referred to as skyscraper posts and they have 2K+ words total, so be sure to keep an eye out for long-form blog post ideas. It's a good idea to write down the number of words for each content asset you're competing with, so you have a better idea of how long your article should be. Once you have a list of content ideas that you'd like to write about, then you can begin planning your blog article strategy. Write down the main topic for each blog post then you'll need to add the keywords from your initial keyword research to each page. Lastly, you'll need to figure out how you can take a different approach for your own articles, so it doesn't look like you're copying any competitors.
Developing Your New Site Structure
Once you have a rough draft of your website outline and all of your content assets, it's time to build out the rest of your site structure. This will be the foundation of all the web pages on your site and this plays a huge role in ranking your main keywords in major search engines. You can open the same Word document you used to create your initial site outline to make changes to it. Your website should be clean and neat, for example, if you're building out more service pages then be sure to have your main services as your main service categories, then add sub-services under each service category. Another term to describe this is Silo Structures. In Silo Structures, your 1st tier of pillar pages are your Homepage, About, Services, Contact, Buy Now, Blog Etc… Then your 2nd tier of pillar pages is the About page assets, Main services, Blog Categories, and so on. The 3rd tier of pillar pages is the sub-services, blog posts, and any other sub-category of the 2nd pillar.
Check out an example of SEO Silo Structures below: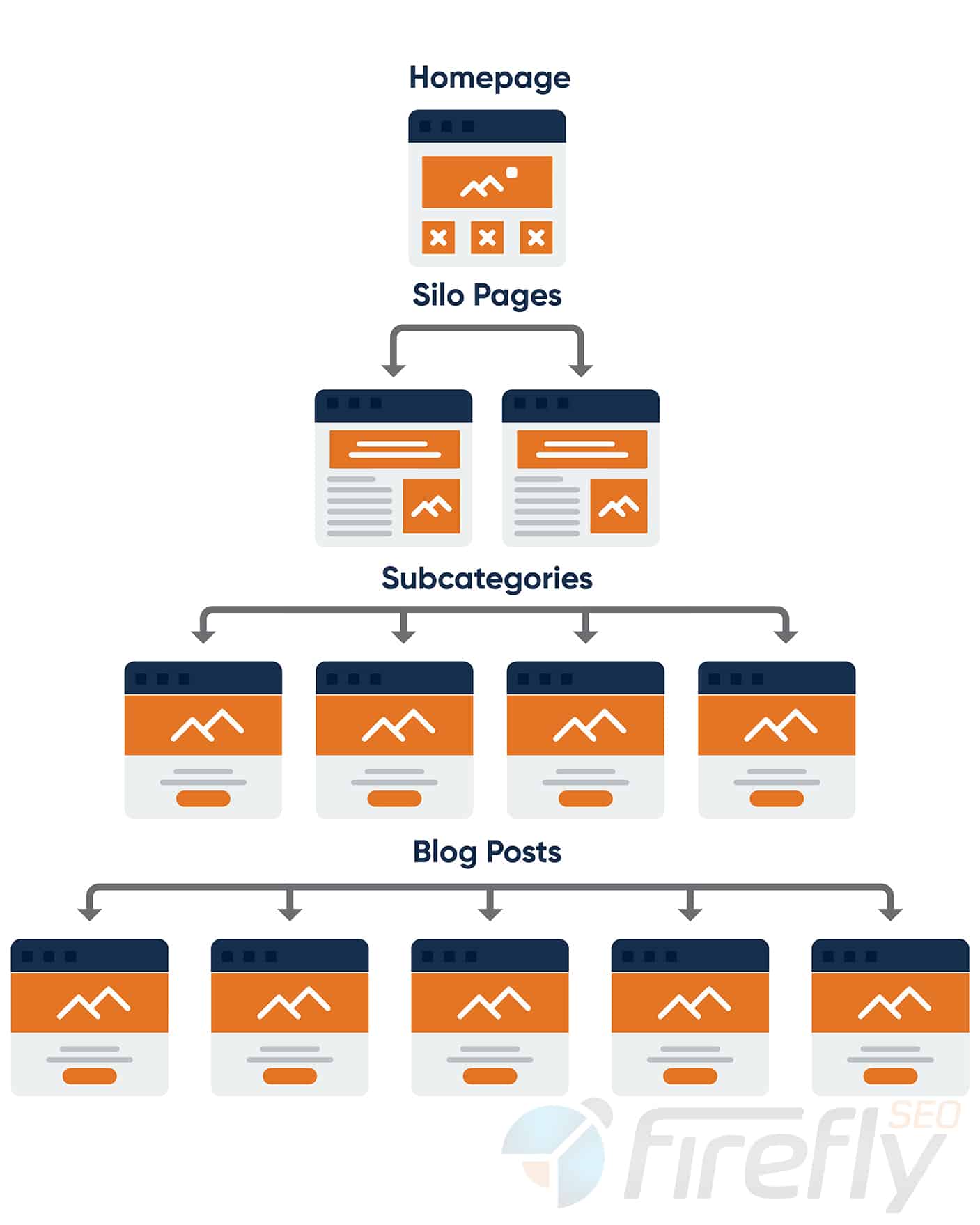 Internal Link Building
Now that you've built out much of your website, it's time to think about how people will navigate around from page to page. The best way is to start internal link building is by linking to all other pages that are relevant to the current page you're analyzing. Think of this as a way to have your new content assets be easily accessible for visitors to navigate around, it also helps Google navigate your website easier. A good internal link strategy will serve your content assets to Google on a silver platter.
4. On-Page SEO
After you've created and implemented your new content assets, you'll need to run a final on-page SEO audit and compare your new site's content with your top competitors. With on-page optimization, you are finally comparing the following of your new site pages with your competitor's:
Page Title tags
Meta tags
Headings
Keyword density
Internal linking
Outbound links
URL Structure
Schema markups
Technical SEO & UX errors
5. Link Building
The final stage of an effective SEO strategy is building links. Once you've completed your link gap analysis as mentioned earlier, you'll have a blueprint of exactly what links you need to replicate in order to outrank your competition in the search engine. It's important to note that you do not need to replicate every single link, in fact, it's impossible. You'll notice the internet has tons of spam and some competitors may have links from trusted and authoritative news sites, .edu's, or government sites, which are really difficult to replicate. The idea is to replicate as many links as possible, then find additional link opportunities to 1-up your competitors. You're going to want to be smart about how you go about acquiring these new links to your site because it's not worth paying cheap money to buy backlinks as this could result in a penalty and a loss of all your hard work.
Your Foundation Of Link Building
If you're new to backlinks and have never done SEO to your site, then you are probably missing most of your foundation links other than whatever social profiles you have set up. Foundation links for a local business consist of the following:
Social Media Profiles
Relevant Niche Forum Accounts
Data Aggregators
Main Citation Sites
Local and Niche Directories
These foundation links are very important for both your local SEO and organic search results. Your SEO plan must have these foundation links in place because they offer more trust to Google that you are a real business. Try not to create a ton of forum accounts unless you actually are active because then it will look spammy.
Replicating Your Competitor's Links
For this process, you'll just need to analyze your link gap analysis to find which links are the best for you to replicate. Ignore any links you see that are Blogspot profiles or any Web 2.0 site at all because these sites are mostly spam and blackhat techniques so they're not necessary. You want to find any social profiles, directories, local chamber of commerce, and relevant niche blogs to then find if you can replicate those links. We don't consider the Chamber of Commerce a foundation link because you don't always need to join for every relevant city, but if you have the funding we definitely recommend using as many Chamber of Commerce organizations as you can because they all have directories and link to your site providing lots of additional trust for you.
1. Replicating Links: Finding Guest Post Blogs & Article Opportunities
Guest posts and news articles are the next best way to 1-up your competition with links. Some local news sites offer directories to get listed on, but the best type of link is a contextual link. A contextual link is a link that's within the Body of the content of the page it's on. This means the best types of links are articles and blog posts. To get a link in on news websites, the best way is to ask around your community to see if you can find anyone that writes for a local news station. Other than looking for articles on news sites, you can find relevant niche blogs for guest posting opportunities. Many blogs on the internet offer opportunities to write content for them, and in return they will let you link back to your site using 1 or 2 links. We found it's best to only use 1 link when linking back to your site, and it's important to add at least 1 or 2 external links to sources of your post. To find these blogs, you can use a cool function in Google to find sites that accept blog posts:
inurl:guest-post-guidelines + "Niche Keyword Here(Eg. roofing, lawn care, plumbing, pest control, etc…)"
inurl:guest-posts + "Niche Keyword"
inurl:write-for-us + "Niche Keyword"
These keywords will help you find tons of amazing guest post opportunities.
2. Replicating Links: Using ScrapeBox To Automate Your Link Prospecting
Our favorite tool for scraping organic search results to find these sites is ScrapeBox. ScrapeBox is like the Swiss Army Knife of SEO, it scrapes dozens of different search engines including YouTube and DuckDuckGo. You can use ScrapeBox to scrape many different phrases at once and the program will take all the results and save them in a CSV file. This means you can find all of your guest post opportunities at once.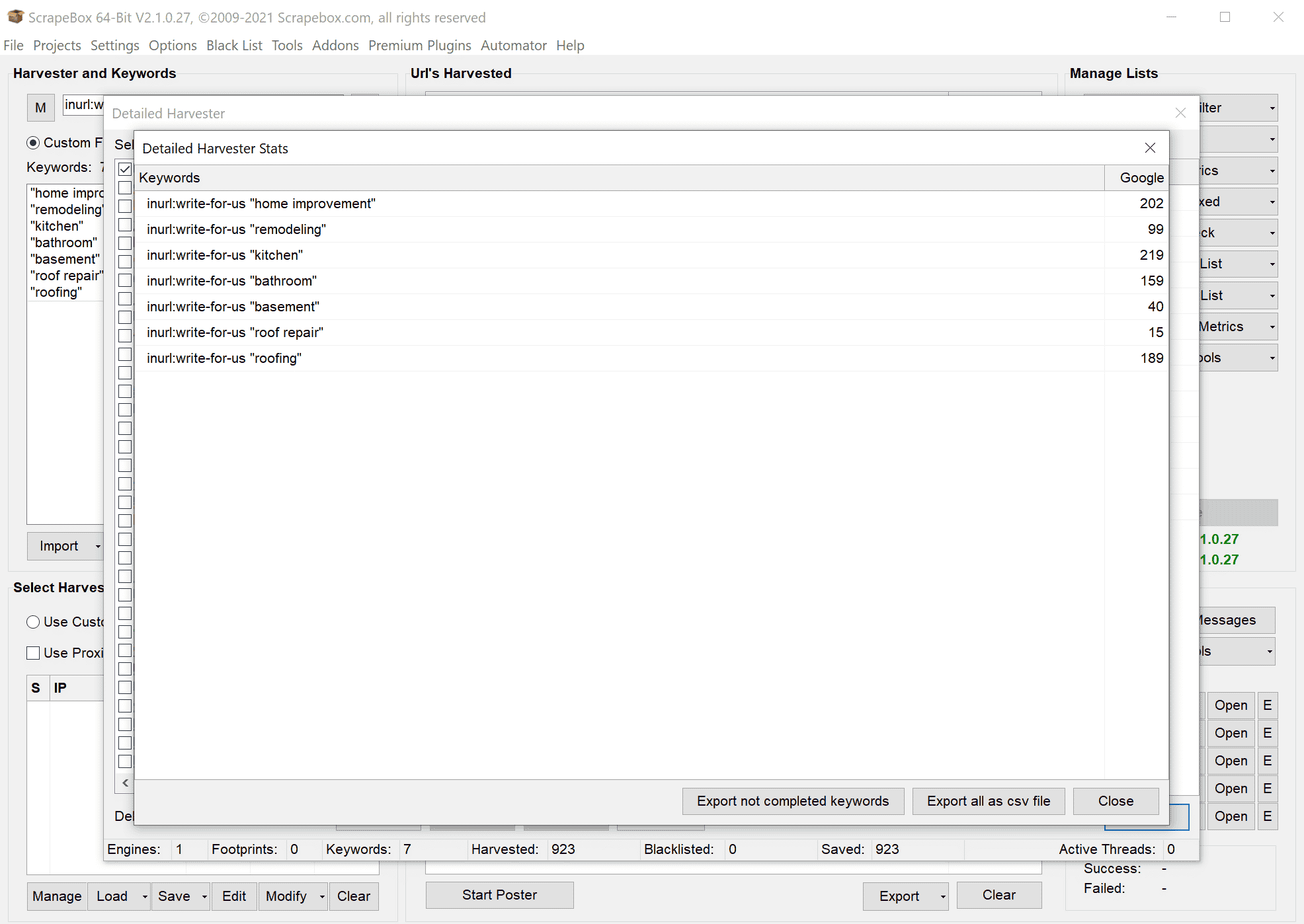 It's important to filter through the results on ScrapeBox before saving because there will be many duplicate sites and you will find some to be spam. You'll want to just filter out all the sites that don't have these phrases in their URL: guest-guest-guidelines, guest-posts, and write-for-us. Once you filter these out, you'll want to save 1 CSV file as "Guest Post Opportunities With Link." Make sure you have removed all duplicate sites, then you want to trim all the URLs to their root domain in ScrapeBox Trim options and save another file as "Guest Post Opportunities Root Domains." This is so we can run the root domains in Ahrefs to find their true link profiles to determine which sites are worthy of a link.
3. Replicating Links: Using Ahrefs To Find All Your Link Prospect's Data
Ahrefs has a Batch Analysis tool you can use to run the root domains and find all the stats for each site. The tool only takes 200 URLs at a time, so if you have more than 200 then you'll need to do this in batches. After you run a batch of 200 domains, you can export a CSV file with the results. The CSV file from Ahrefs will have the results in the same order as your guest links file, so you can open that file and then copy and paste all the data next to the guest post links column. Double-check to make sure everything matches up from top to bottom, then move on to your second batch. Once you're done, you can sort the sites from high to low based on DR so you can analyze each site based on their total trust.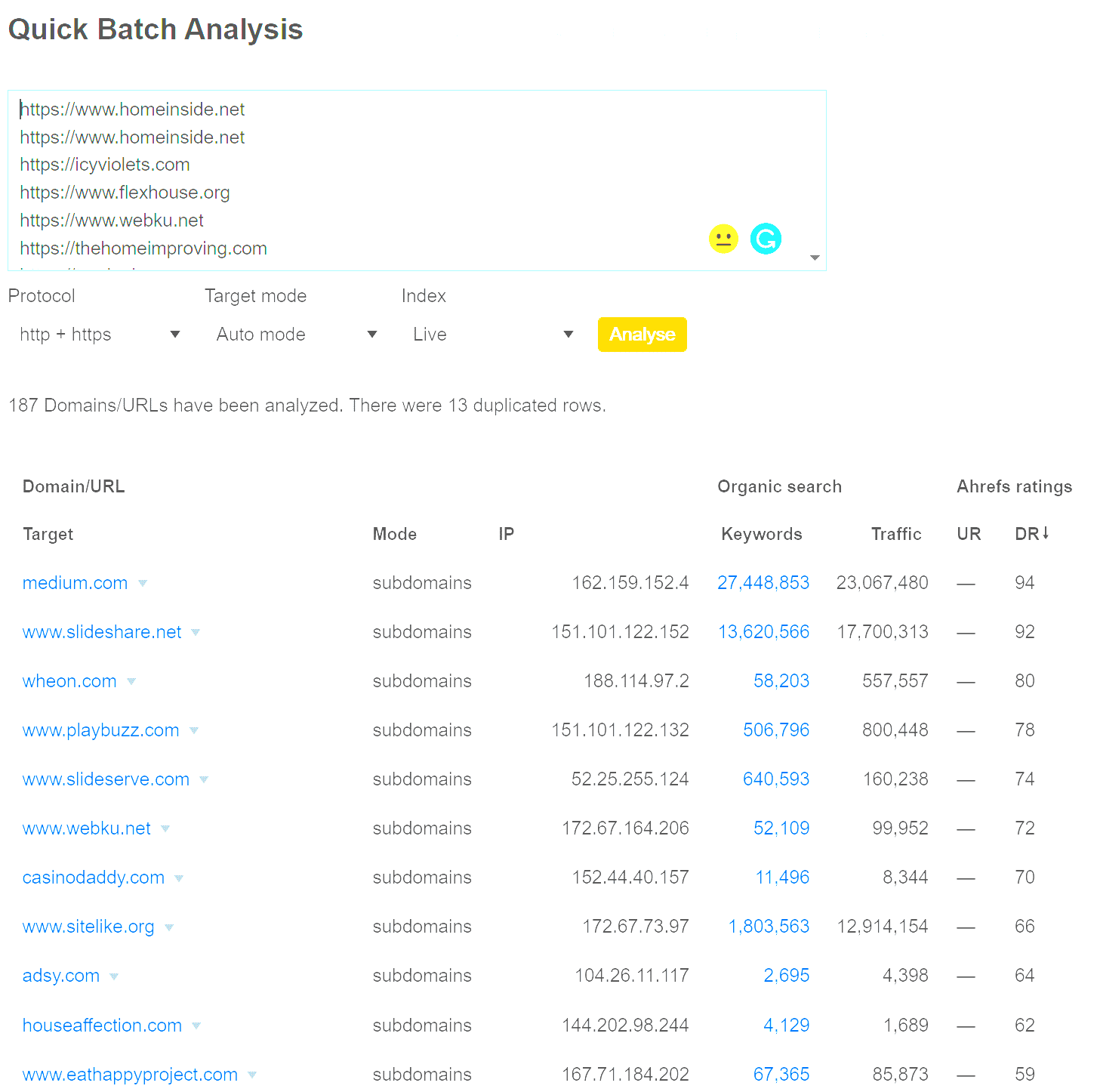 4. Replicating Links: Filtering Your Opportunities To Find The Best Blog Sites
Not every site with a high DR is good because there are tons of sites that use spammy links and duplicate content. You'll want to visit each website to view its design and content to make sure it's a legit blogging site and not just a Private Blog Network (PBN). PBN's can easily be spotted by low-quality web design, logo design, and blog posts that don't make complete sense. All three of these together are a huge red flag and mean you should avoid this blog site. If the site has a good design and high-quality content, then the final step is running it in Ahrefs to analyze its backlinks and their link anchor texts to make sure the site doesn't have very much spammy backlinks. Every site acquires natural spam links, but when you notice an abnormally large number of spammy links, it's not a good site to add to your list of opportunities. The easiest way to find spam links is by looking at the Anchor Text tool after you've looked up the link prospect using Site Explorer. If you find any anchor texts that are in other languages or contain spam about viagra and any other explicit products, these will not be good opportunities and you should delete them from your list
5. Replicating Links: Performing Outreach To Your Link Prospects
When reaching out to link prospects for a blog post, it's best to either have an article or a list of ideas ready to show the editor of the blog. Most of these sites will either have an email address, or a form on the guest blog post page. A lot of these pages will also have specific rules for guest posts. You can use your Spreadsheet with the links to visit the guest post link for each site, then reach out via email or the site form with a simple message like this:
Hey [Name]: My name is [Your name] with [Your Company Name]. First, I just want to say I'm really impressed with your site, I've been researching a lot of blogs in the [Your niche] industry and your blog has some of the best content out of all the websites I've researched. Are you currently accepting any new posts? I'd love to talk more about helping create more high-quality blogs for your site. Here are some topics I've already been thinking about: [Topic 1] [Topic 2] [Topic 3] Let me know what you think, thanks!
This will easily get you a response for more information about how their blog works. Once you find out the specifics for each website, you can add more columns to your Spreadsheet and record the additional data for each site.
6. Search Engine Optimization Reporting & Analytics
Once your new website is live, you should take weekly screenshots of your rankings. If you're using Ahrefs, then the Rank Tracking tool will keep track of your ranks every 5 days. You'll also want to take a screenshot of Google Analytics each month to see which keywords are converting the most search traffic and providing the most value for your business. You'll also want to save all of your Keyword Research data, link prospects, and a file with all the new links you've added to your site. With a good reporting system, you'll be able to see what's working, what's not working, then you can make changes to improve.
BONUS: The 3 Types Of SEO Strategies (And Why You Should NEVER Follow #2)
1. White hat SEO
As mentioned in the above terms, white hat SEO involves ethical strategies to help build your brand's visibility online. White hat SEO techniques include:
Producing new, unique, and relevant content
Valuable, unique, and easy to read skyscraper articles (blogs with 4K+ words)
Creating infographics that explain your business
Having well-labeled images with alt-text
Unique page titles within each of your web pages
Building Citations and Directory Listings
Sharing Your Website On Social Media
2. Black hat SEO
Black hat SEO obviously is used to describe the unethical techniques used to increase your search rankings. Black hat SEO includes:
Duplicate content
Hidden / invisible text
Keyword stuffing
Link farms like link pyramids and link wheels
Content Automation, article spinning, and spammy blog posts
Sneaky 301 Redirects
Guest posting networks and private blog networks
3. Grey hat SEO
Grey hat SEO rides the middle line of Black hat and White hat. Grey hat SEO is very effective, but is it safe? Well, if you're not 100% sure of what you're doing then it's best to stay away from Grey hat SEO strategies. Grey hat includes:
Purchasing expired domains
301 redirecting old domains with backlinks
Buying and trading links
Social media automation
Strategically duplicating content
Building web 2.0 and microsites
Increasing keyword density with hidden text
Incentivizing reviews
Social bookmarking sites